STS SPC CEQ NS
Electric Flat Cutaway Steel Guitar Giannini STS SPC CEQ Natural Satin (NS)
SKU: 24349
Description
Practicality and weightlessness combined with a full, rich sound. The Stage series features models of flat electric guitars with a thin solid body with internal cavities, solid top without sound hole, in nylon and steel versions.
The modelo aço Stage STS SPC CEQ Natural Satin (NS) model has a thin solid Marupá with internal cavities, Sitka Spruce top, Marupá neck and Pau-Ferro fingerboard.
O tensor do violão Stage
Recentemente, a Giannini adotou um novo sistema de ajuste da angulação do braço, para facilitar a montagem dos violões Stage na fábrica, pois se fosse necessária a correção do ângulo do braço, não seria mais necessário se retirar o braço, bastando apenas ajustar um parafuso Allen sem cabeça que funcionaria como um calço, cujo ajuste é feito com uma chave Allen sextavada de 3mm inserida no furo que se encontra na parte traseira do corpo, entre os 4 parafusos de fixação do braço (figura 01) (parafusos que também são usados no momento do ajuste).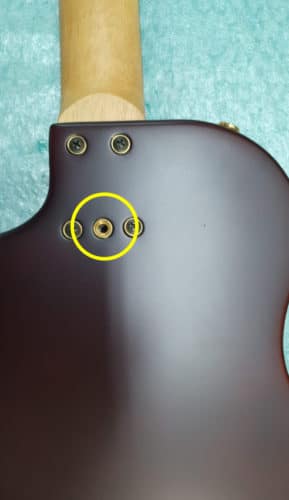 Como o ajuste de angulação do braço (usando esse sistema do parafuso Allen) requer algum conhecimento técnico (pois pode causar problemas na fixação geral do braço, se não for bem feito), recomendamos que esse sistema seja utilizado apenas por um técnico especializado (Luthier), caso ele identifique a necessidade de ajuste.
OBS.: não confundir esse sistema de "ajuste da angulação do braço" (feito durante a montagem do violão Stage na fábrica) com o sistema de "ajuste da curvatura do braço", que é feito através do ajuste do tensor do braço (figura 02), um sistema padrão de ajuste, bem conhecido e muito utilizado.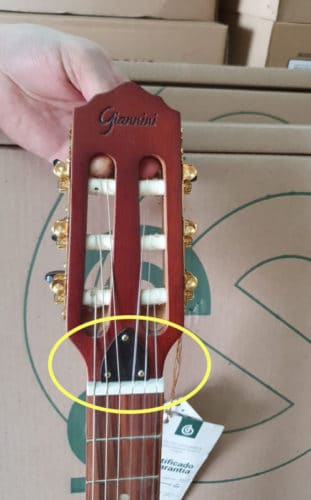 The woods
Marupá
Marupá is a wood frequently found in the Amazon region, mainly in the states of Acre, Amapá, Pará, Rondônia and Mato Grosso.
It's a wood with low density and texture of medium to thick, easy to be worked, which allows a good finish. The color can vary from whitish to slightly yellow or pink, with slightly darker veins forming very smooth regular designs, being exotic due to its clear, almost uniform general appearance.
Sitka Spruce
One of a few non-brazilian wood used in the production of our national instruments. You can find Sitka Spruce in North America.
It is a cream-colored, light pink or brown wood, quite abundant and which results in instruments with good sound projection and a very "lively" sound, with a lot of attack, with a clear tone and it is possible to keep the notes highlighted even with the strong dynamics.
Pau-Ferro
Pau-Ferro is a wood often found in the states of Goiás, Minas Gerais, Espírito Santo, São Paulo and Paraná. It is also found in Bolivia.
It's a density moderately heavy and very durable wood, with a color varying from light-yellow-brown to brown, usually with dark veins forming very characteristic and exotic irregular designs, reasonably difficult to be crafted, but allowing for a good quality finish.
Features
What you will find in this model
3 Band

Tuner

Die-cast Machine Heads

P-10 input

Bi-directional Truss Rod
Shapes
Shapes available in this series
Flat Cutaway Shape
Nut Width
Sizes available in this series
Acoustic Guitar 43 mm
Sizes
Sizes available in this series
39"
Features
Color: Natural Satin (NS)
Top: Solid Sitka Spruce
Body: Thin solid Marupá (with internal cavities)
Neck: Marupá
Fingerboard: Pau-Ferro
Fingerboard length: 650 mm (25,6")
Bridge: Pau-Ferro
Machine Head: Die-cast Chrome, 3+3
Nut: Bone
Nut width: 42 mm (1,65")
Saddle: Bone
Saddle width = 2,9"
Preamp: UK-T3 active 3 band with chromatic tuner, P-10 input
Finish: Satin varnish
Strings: Giannini Cobra GEEFLE .010-.050
Headstock: "Giannini" and "Stage" logos laser engraved
Body width: 339 x 242 mm
Body height: 50 x 50mm
Full size: 39,6"
Acompanha: Chave de ajuste do tensor, bateria CR2032 3V
Made in Brazil
*Product subject to change in his features without notice