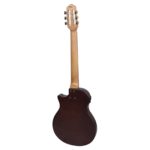 STN SUC CEQ NS
Electric Flat Cutaway Nylon Guitar Giannini Stage STN SUC CEQ Natural Satin (NS)
SKU: 24353
Description
Practicality and weightlessness combined with a full, rich sound. The Stage series features models of flat electric guitars with a thin solid body with internal cavities, solid top without sound hole, in nylon and steel versions.
The Stage STN SUC CEQ Natural Satin (NS) model uses nylon strings and presents a fine solid Marupá body, with internal cavities; solid Sucupira top, Marupá neck and Pau-Ferro fingerboard.
The woods
Marupá
Marupá is a wood frequently found in the Amazon region, mainly in the states of Acre, Amapá, Pará, Rondônia and Mato Grosso.
It's a wood with low density and texture of medium to thick, easy to be worked, which allows a good finish. The color can vary from whitish to slightly yellow or pink, with slightly darker veins forming very smooth regular designs, being exotic due to its clear, almost uniform general appearance.
Sucupira
With a heavy density and very stable, and characteristics reminiscent of Imbuia. It has a high-pitched tone with a very low medium, and its main use in the manufacture of instruments is in the top. It is found in all regions of Brazil, with predominance in the North region.
Pau-Ferro
Pau-Ferro is a wood often found in the states of Goiás, Minas Gerais, Espírito Santo, São Paulo and Paraná. It is also found in Bolivia.
It's a density moderately heavy and very durable wood, with a color varying from light-yellow-brown to brown, usually with dark veins forming very characteristic and exotic irregular designs, reasonably difficult to be crafted, but allowing for a good quality finish.
Features
What you will find in this model
3 Band

Tuner

Golden Machine Heads

P-10 input

Bi-directional Truss Rod
Shapes
Shapes available in this series
Flat Cutaway Shape
Nut Width
Sizes available in this series
Acoustic Guitar 48 mm
Sizes
Sizes available in this series
Features
Color: Natural Satin (NS)
Top: Solid Sucupira
Body: Thin solid Marupá (with internal cavities)
Neck: Marupá
Fingerboard: Pau-Ferro
Fingerboard length: 650 mm (25,6")
Bridge: Pau-Ferro
Machine head: Golden pins, 3+3
Nut: Bone
Nut width: 1,9"
Saddle: Bone
Saddle width = 2,9"
Preamp: UK-T3 active 3 band with chromatic tuner, P-10 input
Finish: Satin varnish
Strings: Giannini Clássico GENWXPA Extra Heavy
Headstock: "Giannini" and "Stage" logos laser engraved
Body width: 342 x 243 mm
Body height: 50 x 50mm
Full size: 40"
Included: truss rod adjustment wrench and GF22 9V battery
Made in Brazil
*Product subject to change in his features without notice
Compare
Electric Flat Cutaway Nylon Guitar Giannini Stage STN SUC CEQ Natural Satin (NS)
Electric Flat Cutaway Nylon Guitar Giannini Stage STN CDR CEQ Natural Satin (NS)
Electric Flat Cutaway Nylon Guitar Giannini Stage STN SPC CEQ Natural Satin (NS)
Electro Acoustic Nylon Guitar Giannini Brasil NLS Imbuia CEQ NS (IMBU)
Electro Acoustic Nylon Guitar Giannini Brasil NFL Cedro CEQ NS (CEDR)
Electro Acoustic Nylon Guitar Giannini Performance GNF-3 CEQ Walnut Satin (WS)
Electro Acoustic Nylon Guitar Giannini Start NF-14 CEQ Black (BK)
Product code
STN SUC CEQ NS
STN CDR CEQ NS
STN SPC CEQ NS
NLS IMBU CEQ NS
NFL CEDR CEQ NS
GNF-3 CEQ WS
NF-14 CEQ BK
SKU
24353
24351
24352
24034
24030
23108
21869
Category
Acoustic
Acoustic
Acoustic
Acoustic
Acoustic
Acoustic
Acoustic
Serie
Stage
Stage
Stage
Brazil
Brazil
Performance
Start
Instrument type
Electric Nylon Acoustic Guitars
Electric Nylon Acoustic Guitars
Electric Nylon Acoustic Guitars
Electroacoustic Nylon Guitars
Electroacoustic Nylon Guitars
Electroacoustic Nylon Guitars
Electroacoustic Nylon Guitars
Features
Tensor Bi-direcional, 3 Bandas, Afinador, Tarraxas Douradas, Entrada para cabo P-10
Tensor Bi-direcional, 3 Bandas, Afinador, Tarraxas Douradas, Entrada para cabo P-10
Tensor Bi-direcional, 3 Bandas, Afinador, Tarraxas Douradas, Entrada para cabo P-10
Tensor Bi-direcional, 3 Bandas, Afinador, Tarraxas Douradas, Entrada para cabo P-10
Tensor Bi-direcional, 3 Bandas, Afinador, Tarraxas Douradas, Entrada para cabo P-10
Tensor Bi-direcional, 3 Bandas, Afinador, Tarraxas Douradas, Entrada para cabo P-10
Tensor Bi-direcional, 3 Bandas, Afinador, Tarraxas Niqueladas, Entrada para cabo P-10
Size
40"
40"
40"
40"
39"
39"
39"
Body size
Shape
Flat Cutaway Shape
Flat Cutaway Shape
Flat Cutaway Shape
Classic Cutaway shape
Flat Cutaway Shape
Flat Cutaway Shape
Flat Cutaway Shape
Color
Natural Satin (NS)
Natural Satin (NS)
Natural Satin (NS)
Natural Satin (NS)
Natural Satin (NS)
Walnut Satin (WS)
Black (BK)
Back and sides
Imbuia
Cedar
Sapele
Linden
Nut
Acoustic Guitar 48 mm
Acoustic Guitar 48 mm
Acoustic Guitar 48 mm
Acoustic guitar 52 mm
Acoustic guitar 52 mm
Acoustic Guitar 48 mm
Acoustic Guitar 48 mm