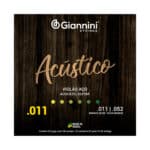 GESPW
Giannini Acústico Strings for Steel Acoustic Guitar Bronze 65/35 GESPW (.011-.052)
SKU: 5925
Description
The Giannini strings Acústico series are perfect for you to get the best sound, clean and full-bodied, of your instrument. The steel acoustic guitar strings Acústico GESPW it is suitable for musicians who like a string with a bright and clean sound.
All Giannini strings are produced in Brazil, at our factory in Salto, in São Paulo.
Bronze 65/35
Formed by Copper and Zinc, it is a yellow colored metal. This alloy contains 35% Zinc and 5% other metals, and its color varies according to the percentage of Copper present in the alloy. On the musical strings they present a bright and very clear sound.
ISO 9001 Quality Seal
The entire line of Giannini strings has the approval of the ISO 9001quality seal. But what is the ISO 9001 seal?

ISO 9001 is a series of norms and rules that seek to guarantee the final quality of your strings. These procedures range from the choice of the raw material and its suppliers, going through the entire production process of the strings, training of the labor involved in the production, its distribution, until the product reaches the dealers and the consumer. These processes and all those involved in it undergo audits every year, to verify that they are being followed according to the established standard, so that the seal is renewed.
Since 2007, Giannini has been awarded the ISO 9001 seal in its strings line, which is renewed annually, proving the quality of each string that you use in your instrument.
Features
Made in Brazil
Core: Steel
Coating: Bronze 65/35
Finish: Ball-end
Fingerboard lenght: 648 mm / 25 1/2″
Measurement chart
Silver
Purple
Green
Black
Red
Bronze
1.E
2.B
3.G
4.D
5.A
6.E
A
inch.
0.011
0.015
0.024
0.032
0.042
0.052
mm.
0.28
0.38
0.61
0.81
1.07
1.32